Exploitation Minière de la Chaleur
LOCATION: SOULTZ-SOUS-FORÊTS, FRANCE

STATUS

: IN OPERATION SINCE

JULY 2016

CUSTOMER

: GEIE- EXPLOITATION MINIÈRE DE LA CHALEUR

WATER TEMPERATURE: 160 °C
Enhanced geothermal system

The electric power produced by the ORC system is supplied to the town of Soultz-sous-Forêts
THE CUSTOMER
Soultz-sous-Forêts geothermal site, located in Northern Alsace (France), belongs to a French-German consortium with ES, EnBW and Bestec, called GEIE.
THE NEED
The well-known Soultz-sous-Forêts geothermal site, located in Northern Alsace (France) is home to a Turboden ORC unit of 1.7 MWe. The reservoir is a deep fractured granite, thus the type and quality of the brine has high saline content. An enhanced geothermal system has been developed by GEIE to produce geothermal water at 160 °C.
OUR SOLUTION
Turboden provided a cutting edge air-cooled ORC plant to exploit the heat from the geothermal brine and reinject into the source with a temperature of 75 °C.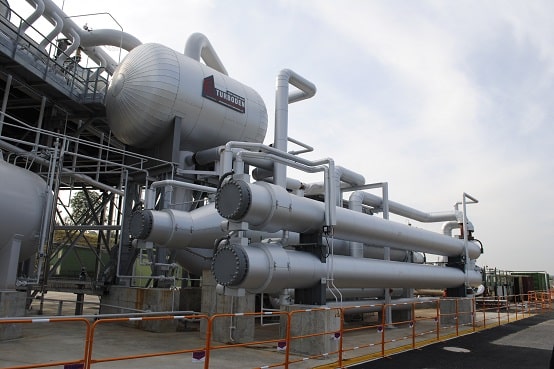 OUR CUSTOMERS SAY
" As operator of the power plant, ES-Géothermie really appreciates the very easy handling of the ORC unit that we can manage most of the time on our own. If assistance is required, the support team of Turboden is usually very responsive. Moreover, we truly believe that the actual, remarkable performances of the Soultz-sous-Forêts geothermal power plant are the results of a very fruitful collaboration between the Turdoden staff and the Soultz team at every steps of the project: construction, commissioning and current exploitation."
Nicolas Cuenot - Engineer responsible for the Soultz power plant operation for ES-Géothermie, France
1.7 MWe, start-up: July 2016
SUBSCRIBE TO OUR
NEWSLETTER
Get all the news, discover our technologies and find out about our latest developments.
REGISTER HERE