Turboden clean energy ahead
Turboden is an Italian firm and a global leader in the design, manufacture and maintenance of Organic Rankine Cycle (ORC) systems, highly suitable for distributed generation, that generate electric and thermal power exploiting multiple sources, such as renewables (biomass, geothermal energy, solar energy), traditional fuels and waste heat from industrial processes, waste incinerators, engines or gas turbines. Today Turboden expands its solutions with gas expanders and large heat pumps to contribute to the worldwide efforts to mitigate global warming by creating reliable and clean energy systems.
1

Countries
1

Plants54 Plants are
under construction
Find your solution
ENERGY EFFICIENCY
Highlights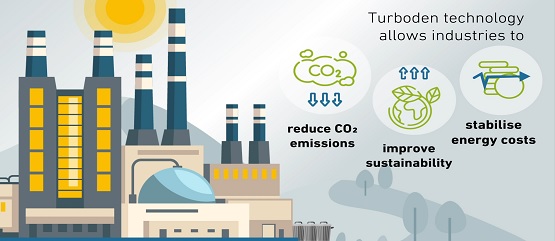 Energy market instability? Generate your own power. (NEW VIDEO)
Turboden provides energy efficiency and cogeneration solutions to valorize industrial waste heat, biomass, geothermal and different kind of waste allowing industries to stabilize energy costs, improve sustainability and reduce CO2 emissions. Watch the new video!
SUBSCRIBE TO OUR
NEWSLETTER
Get all the news, discover our technologies and find out about our latest developments.
REGISTER HERE